1457339
story
The original Halo was a seminal moment in console gaming. The intuitive controls and memorable gameplay of Halo's multiplayer component still makes it a gaming favorite when it comes to LAN gaming. The sequel builds on the successes of the original game with new features (such as dual weapons) and Xbox Live integration. Some minor graphical glitches and a somewhat weak plot keep this from being the best game evar, but Halo 2 is an extremely enjoyable console shooting experience. Read on for my impressions of Master Chief's return, and a look at an Xbox Peripheral that allows you to use your keyboard and mouse with Xbox shooters.
Title: Halo 2
Developer: Bungie Studios
Publisher: Microsoft Game Studios
System: Xbox
Reviewer: Zonk
Score: 8/10
I have a confession to make. Two months ago, I was one of *those* guys. You know them. The hoity-toity PC people who swill champagne with one hand while manipulating their mouse with the other, saying "A First-Person Shooter without ze mouselook and WASD? I think not, my dear fellow. Fetch me zome more escargot." I'm a big man, though. I can admit when I'm wrong. And Halo 2 has not only proven to me that First-Person Shooters on a console can be fun, they can be handled by those of us who are used to mousing for teh win.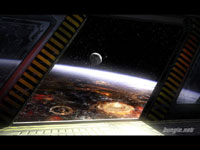 While I had no expectations when I first loaded Halo 2, that wasn't the case for a lot of people. The hype factor was enormous. The success of the first game and its role as a base of support for Xbox sales meant that there were a lot of frothing fans waiting for the second game's release day. A viral marketing campaign spearheaded by the Alternate Reality Game ILoveBees primed gamers for the release with tantalizing portions of the storyline. TechTV showed images of hundreds of screaming fans at the Halo 2 launch party held inside the Time Square Toys R' Us, and ran an entire day of programming based on the game. Was it all worth it? Kinda. If your expectations were centered around the multiplayer portion of the game you have a lot to celebrate, but some of the weaknesses of the first Halo's campaign are back again like a monkey on Bungie's back.
Campaign good news first, though. Bungie has taken everything enjoyable about Halo 2 and polished it until it shone. The speed and pace of the game is very enjoyable, with new game elements and locations being thrown at you as quickly as you can handle them. The AI in the game is a cut above, with enemy troops making intelligent decisions that keep you from getting lulled into a rut. Your companions, just meat filled shields in so many games, are just as on the ball as the enemy. They use tactics and firepower to overcome enemy positions, the distractions and destruction you cause allowing them to get in some good shots of their own. The storytelling is improved over the first game as well, with the campaign splitting off to allow you the opportunity to play as a disgraced Covenant warrior. The new gameplay elements and control scheme are explained in enough detail so that someone who went through the first game, as well as a new player, will have little problem getting into the action. Voice acting during the cinematics is very good, with the characters throughout the game being brought to life by a cast that obviously cared. The cinematics in general did a good job of moving the story of the game forward.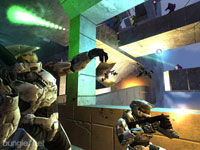 That said, there are some frustrating moments in the campaign as well. Much like Halo 2's contemporary Half-Life 2, the story of this second game feels very much like a waypoint in a larger journey. Unlike Half-Life 2, which gives you at least a modicum of closure, the story of Halo 2 ends very abruptly. Additionally while I applaud the move beyond the human frame of reference in the overall plot, the change in venue muddies the waters somewhat as regards overall cohesive storytelling. On a technical level I witnessed a lot of textures popping into view during cinematics, jarring me from enjoying them as much as I might have otherwise. The AI, which could almost convince you of a human-like mind in a ground battle, has a lot of problems when piloting a vehicle. I found myself crushed to death more than once when trusting the driver's seat to a team-mate. The most frustrating single-player experience for me, however, happened when I accidentally wandered outside of the gamespace as envisioned by the Bungie developers. Some missions were obviously meant to be traversed by a vehicle and were tedious to walk through. Annoyance with NPC drivers led me to ditch a Warthog during one of these levels, only to turn back when I realized I could be walking for quite a while. Unlike the Half-Life 2 vehicle sequences, these mid-mission vehicle changes could have been better tuned.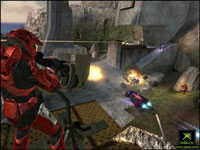 These frustrations didn't stop me from enjoying the relatively quick single player campaign, though. They also whet my appetite for Halo's true calling: multiplayer. The Xbox Live enabled multiplayer experience in Halo 2 is nothing short of brilliant. After logging in via your Live ID, all you need to do is pick a game type. The game's matching software hooks you into a game with other appropriately skilled players based on your previous multiplayer accomplishments. The actual gameplay has a very different tenor than traditional PC FPS gaming. Where PC gaming can allow for dead-eye marksmanship and long-range dogfighting, console FPS games are down and dirty affairs. The levels are more closed in by necessity and design. Bungie's care to the placement and composition of weapons and level components leads to a frenetic pace. The game kindly provides you with several metrics and your average lifespan is one of them. It's usually very low.
Beyond straight up deathmatch there are a multitude of gameplay options available. Capture the Flag and Team Deathmatch allow for collaborative battles, while a type of "football" (using a skull) allows for more traditional team play. You can also create your own games, for local play or online action. There are several specific settings that can be tweaked, allowing for specific weapon choices and available maps. On top of the quality of the gameplay experience, thanks to Bungie's extra consideration your exploits are not transitory. By signing up for a Passport ID and linking it with your Xbox Live ID, you can view your statistics from your multiplayer battles. These stats are made available via a personalized RSS feed, as well, allowing you bragging rights via your web site or aggregator of choice.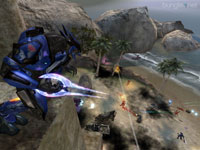 Halo 2 may not be the best game made in 2004, but there is no question that Bungie's skill and attention to detail has crafted a worthy successor to the original game, and via the Live service introduced a fantastic substitute for more traditional LAN gaming. If you enjoy action gaming and you own an Xbox, there is simply no excuse for you not to own Halo 2.
Product Name: MagicBox XFPS
Developer: Farmer Entertainment
Score: 6/10
A peripheral for the Xbox console, the XFPS fulfills the "why didn't I think of that" niche for console-based shooters. The small box allows you to plug a PS2 mouse and keyboard in, and then use them in place of a controller.
The device is simple to use, and setup involves taking off the packaging and plugging the peripheral into the controller port. The mouse and keyboard slot into standard PS2 ports on the front of the box. All other controls for the device are via the keyboard. The device directly maps the buttons on the Xbox controller to keyboard buttons and mouse movements. Which buttons on the keyboard the controller buttons map to are chosen by selecting F9, F10, or F11 on the keyboard. Which interface is currently in use is indicated by a light on the Magicbox itself. The "Blue Light" (F9) interface, for example, matches the controller. The X controller button maps to the X keyboard button. The "Red Light" (F11) interface seems more designed to take advantage of the keyboard layout, with the buttons grouped around the WASD keys.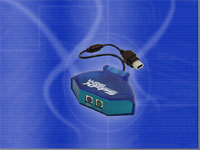 The mapped keys work quite well. The mouse (at least for me) improved my control and accuracy while shooting. I made several shots in multiplayer games that I know I couldn't normally make with the controller. The autoaim that Halo 2 allows combines with the precise cone of movement that a mouse has to give you enhanced accuracy. The "cone of movement" part of that is the most important consideration to make when using the XFPS.
Unfortunately, while the mouse allows for increased accuracy it only allows you that accuracy as long as you don't have to turn. The problem is that mouse sensitivity is quite low, likely because of how the XFPS is mapping the thumbstick movements. In order to turn I found myself whipping the mouse across the mousepad repeatedly. The other players, able to turn with the simple angling of a thumbstick, schooled me. Halo 2 and other console based FPS titles are simply too spastic for the XFPS to be all that useful. PC titles may allow for distant fights, but the up close and personal fighting style required in console FPS games don't allow an XFPS user to move with enough agility to be a skilled player.
In addition to agility issues, actually using the XFPS can be something of a chore. The keyboard/mouse setup essentially demands a wide and flat surface along with an upright seat, not a setup you normally have in front of a television. One of the joys of console FPS gaming is the spontaneity with which you can indulge in quick fragging, and having to drag out a chair and rig specifically for the XFPS seems frustrating. There's also the issue that the XFPS is simply not a peripheral you can use for any other type of game, meaning if you want to switch games relatively often you'll be plugging and unplugging the thing just as frequently.
While the XFPS is a good idea, the lack of mouse sensitivity and necessity of setting up a rig specifically to use the peripheral makes it a device whose potential outstrips its usefulness.
Halo 2 screenshots are from Halo2.com and Bungie.net ©2004 Microsoft Games Studio and Bungie. Magicbox XFPS image is from Magicxfps.com, ©2005 Farmer Entertainment.