1458457
story
An event anticipated all week by many of the conference attendees, the Keynote delivered by Nintendo President Satoru Iwata was informative and inspiring. He spoke early on Thursday morning to a packed room that broke out into pleased applause several times during the speech's delivery. His talk spoke of the future, Nintendo's vision, and a commitment to reaching out beyond the current crop of game players to folks beyond the hardcore. Read on for a bevy of coverage and my own commentary on the "The Heart of the Gamer". (And some Zelda footage, if you care about that.)
Before I discuss my impressions of the talk, there is quite a bit of coverage to spread around. Chris Morris at CNN Money has details from the talk, as does Che Chou on 1up.com, Matt Casamassina on Cube.IGN, Alice on the Wonderland Blog, Ben Zackheim on Joystiq, and Tor Thorsen at Gamespot. Gamespot in particular has something you might be interested in checking out, the second Official Trailer for The Legend of Zelda.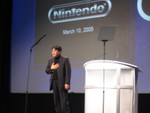 President Iwata began the talk by announcing that he has some conflict within himself in his role as president. He's only a President on his Business Card, he said. In his mind, he's a Game Designer. And in his heart, he's just a gamer. He began programming games on his pocket calculator, with no games, and became attached to Nintendo by being a part of the small Hal design company. Hal, he stated, came from the computer in 2001 a space Odyssey because the name sounded cool. The company created the Kirby and Earthdawn titles, and as time went on he found himself working full time for Nintendo.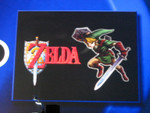 He's been making games, then, for almost two decades, and he discussed some of the things that have changed and some of the things that have stayed the same in the business since then. Overall, he saw most of the changes be to size. Bigger budgets, bigger complexity, bigger attention from worldwide media. On the other hand, there are fewer risks, fewer visions, and fewer ways of thinking about players and games.
To respond to this, Nintendo has committed itself to not abandoning the core gamers. Metroid Prime will be out later this year, and the demo shipped with the DS system. Geist is going to be a new and interesting version of a shooter, Zelda appeals to hard-core gamers and regular gamers alike, and Resident Evil 4 is a GC exclusive.
On the other hand, Nintendo is really trying to push out of the current player base and into the market beyond. The DS is their flagship for this effort, and they've currently sold 4 Million units (with the European launch of the system today). Mario Kart DS is an upcoming title for the system, will bridge the gap for both new and old gamers, and is going to utilize wireless play to let up to 8 people play together. Beyond that, though, they really want to give players more than just what they already know they want.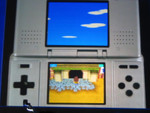 To that end, DS Wifi will be rolling out by the end of the year. The goal of the system is to allow gamers to play together over large distances, simply and seamlessly. Most importantly, the service is going to be completely free of charge. This service will hook people who have never used wifi services before into a new arena of technology, and their new style of games will reach out to people who don't really want to play "games". Nintendogs has already received a lot of press, and is one of these tools to reach out to the non-gamer. If you'd like a look at a portion of the Nintendogs presentation, you can view that here. They didn't reveal anything terribly new, but did show off the microphone capability of the game. The person demoing Nintendogs would whistle, and the dog would come running. By issuing voice commands that he'd pre-selected the virtual critter would perform for him. Even more interesting was the non-game they showed off entitled ElectroPlankton. The music/sound experiment utilizes the microphone as well, and you can see three portions of the game here, here, and here.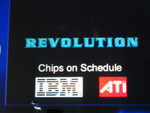 The Revolution was only mentioned, but they did give out some new and interesting information. It will be completely backwards compatible with the Gamecube, ensuring that the most popular of the current stable of games will be available into the future. As with the DS, it will also be wifi enabled for mysterious purposes that they didn't really go into. Their chips and technology are completely on track, and more will be revealed at E3.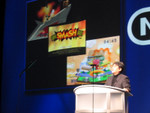 Overall President Iwata was a very arresting speaker. He had excellent delivery, his message was one of change and a new look at gameplay, and he was promising more of what we already know to be good gaming experiences. As they were two of the largest events at the conference, comparing the Nintendo and Microsoft speeches is a must. In general, the "yay Nintendo" aspect was just as much of a commercial endeavor as existed in the Microsoft keynote. Iwata was taking the opportunity to promote his company's vision of the future, and that naturally trends towards the products and services fo the company he represents.
At the same time, though, I felt a lot more hopeful listening to President Iwata than I did listening to Allard. The "HD Future" isn't much to get excited about. A Gamer's card and higher resolution isn't something that really leaps beyond the norm of what we have today. Incremental changes are needed, of course, but keynotes are meant to fire the blood. Iwata did that more effectively through the invoking of something that everyone in the room had in common: "The Heart of a Gamer". Nintendogs and Electroplankton may not be the way to make this industry sell its first 20 million unit title, but like the analogy that Iwata used in speech, they're definitely not of this gaming world. And exploration is something that I think is on far too few peoples minds in the gaming industry today.