1466125
story

PC Gaming has been getting a lot of flak lately. As the consoles edge ever more into what has traditionally been PC space developers will have to take steps to re-imagine what makes PC Gaming special. Battlefield 2 is a title that hard-core enthusiasts can point to if they want a great example of what separates console gaming from PC gaming. Pitched, high tension battles fought street to street and house-to-house are experiences that consoles just can't offer up yet. Read on for my impressions of Battlefield 1942's sibling.
Title: Battlefield 2
Developer: Digital Illusions
Publisher: Electronic Arts
System: PC (only)
Reviewer: Zonk
Score: 8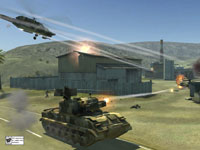 Battlefield 1942 has been one of the most popular First Person Shooters on the market since it was released three years ago. The solid graphics and wide open gameplay field of that title ensured that it was regularly in the mix with Counter-Strike and Unreal Tournament on lists of most played online titles. Combining the vehicular combat of Tribes and the team play of Halo, wrapped up inside a WWII packaging that had yet to lose its luster, Digital Illusions scored a sales coup. Their latest title, Battlefield 2, takes place in the near future. Instead of a historical setting, modern weaponry and level design is the order of the day. Helicopters, Jet Fighters, and sidearms familiar to anyone who has watched CNN make the battlefield an exciting place to be. CNN coverage, in fact, was likely an inspiration for the developers during the game's creation. The game pits American forces against vaguely terrorist middle-eastern stereotypes, in a topical tie-in to today's headlines.

So how do you improve on an already great title? The sequel to Battlefield 1942 and Battlefield Vietnam stays very close to the source material. So close, in fact, that it's hard to point to any fundamental change in the gameplay mechanics. The changes, instead, are quality of life improvements. The game's engine allows for lagless infantry combat and accurate vehicular strikes. A fantastic audio environment places you directly in the action, raising the heart rate as bullets whiz by your head. Graphical improvements allow for a beautiful setting to slay your enemies, and tight level design makes for surprisingly tense house-to-house fighting. Stripping away options in favor of enjoyment, BF2 only ships with the Conquest game type, which pits armies of varying size against each other in a bid to control a set of nodes scattered across a map. Though there aren't that many maps each of them scales from 16 to 64 players. This allows for each map to evoke a different feel, from squad on squad to army vs. army, depending on the battle's size.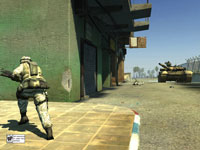 The additions they've made to the Battlefield series instead changes the framework of the tried and true gameplay they're offering up. Players have several different kits they can outfit themselves with, as in the original titles, but new kits such as the special forces soldier add in some variety. Support characters, like medics and engineers, can also increase their effectiveness by entering vehicles. These vehicles become mobile support bases, with medics inside vehicles healing fellow players that stand near the unit. Players can form themselves into small squads, each of which has a dedicated voice chat channel. Squad leaders can issue orders via a push-button system or voice, and have their group act in unison. The squads on a particular side are in turn directed by a commander. The commander of a side has a very different perspective on the game, a top down map interface giving him a birds-eye view of the proceedings. The commander has several tools at his disposal, including a kind of enemy detecting radar and the ability to call down artillery strikes. When the entire system is working in unison, players acting in concert within their squads and in league with other units directed by a commander, the experience is something akin to poetry in motion.

Unfortunately, that frission of so many different players working together rarely happens. While gamers have adopted voice chat for everything from Massive games to UT Tourneys, they generally do so with people they already know. In playing online, very few individuals seemed willing to make their voices heard to strangers. The in-game text commands are easy to access and informative, but they're still no match up for a quickly uttered statement. While cohesion within squads does seem to be generally good, as there are only a few people to coordinate, the level of effectiveness is entirely dictated by the squad leader. One suicidal or absent-minded guy at the reins can meant that you and your comrades are in for one messy death after another. In the overall picture, the commander's role ends up less utilized than it could be. Armchair generals abound in the FPS world, but in practice few are anything approaching a virtual Colin Powell. The experiences I've had lead me to believe that overwhelming force will almost always win the day. Beyond the game itself, the frustration involved in getting into combat is often off-putting. It may seem like picking nits, but the glacial slowness and murky obscurity of the server browser is extremely frustrating to have to deal with when compared to the user interfaces offered by other games.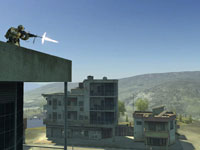 Battlefield 2, then, is an extremely competent first person shooter with a strong pedigree and a vision to improve the way in which the genre is played. It is hampered by the vagaries of online play with strangers, poor user interface decisions. On top of these issues, bugs have been a problem since the game was released. Numerous patches, some even more devastating than the bugs they were meant to fix, have not endeared the game to players. Despite all these problems, when a group of players clicks in a Battlefield 2 game it is unlike any other team-based FPS on the market. Fans of the previous games will be happy to get back into the game they love, no questions asked. Veteran FPS players should definitely consider picking up a copy, as it's highly likely that you're going to run across this title at your next LAN party ... but you'll probably want to save it for LAN parties. Players new to the PC FPS experience will find things to enjoy here, but may be intimidated by the amount of knowledge the game assumes on the part of the player. Overall, while not a disappointment, Battlefield 2 falls short of a dramatic reprisal of the Battlefield series.