1468913
story
The unique elements of Nintendo's Dual Screen handheld have led to titles with very different gameplay. Warioware Touched and
Kirby Canvas Curse
typify the ways that Nintendo wants game designers to begin thinking about using their hardware. There are still new directions that Nintendo wants to push gaming, though, and they're not content to sit back and let others find the path. Non-game games, then, are what seems to be in store for the DS. Titles like Electroplankton, the music-making system, and the tamagotchi-esque Nintendogs are intended to bring non-gamers into the fold with interactive software that they can enjoy but aren't necessarily games. In the spirit of the non-game games, then, read on for my non-review of Nintendogs.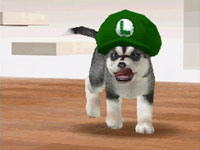 By non-review, I mean I'm not going to give this game a score. Moreover, if I was to give this game a score it would be a meaningless act. Unlike say, Daikatana (pause for laughter), where my opinion of the game could bear some relation to what your opinion of the game is likely to be, Nintendogs is a very different animal. If you don't like dogs, don't play this game. If you require long sweeping narratives with grandly composed music in your gaming chowder, don't play this game. If the thought of having to bathe a virtual creature gives you the shivers, don't play this game. Because, in a nutshell, Nintendogs is a virtual pet simulation where you pretend to have a dog. You feed the dog, you walk the dog, you play with the dog. And that's about it.

All that said, it is easily the most enjoyable Tamagotchi ripoff I've ever played with. When you first start the game, you're presented with a trip to the puppy mill. There are three versions of the game, and each one has different dog breeds available to play with. I got "Miniature Dachshund and Friends", and along with the title breed you also get the option to adopt Shih Tzu, Golden Retrievers, Beagles, Pugs, or Siberian Huskies. Even if you choose a larger breed, you needn't worry about ruined furniture; the dogs in this game are eternal puppies. Once you've gotten a puppy, the game puts you through a quick tutorial ... and then you're on your own. If you just want to sit around and rub your dog's tummy all day, that's cool.

On the other hand, if you just have to do something constructive with your puppy you can teach your critter tricks. By moving the stylus in certain ways, you can get your pup to approximate certain positions (sit, lie down) or actions (roll over, chase your tail). When they perform the trick with your stylus prompting, a little light bulb shows up on screen. If you press the icon, you're given the chance to say something into the built in microphone. Say roughly the same thing enough times, and your dog will associate that vocal imprint with the trick. The key with this is that, as good an idea as it is, the microphone isn't all that great. Multiple words (like "sit down" or "chase your tail") with distinct sounds are the best way to get the wee canine to do what you want.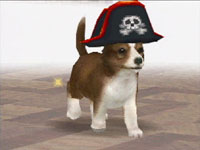 Once you have it following your voice you can do what every dog owner dreams of: enter it in contests! Actually, the contests are phenomenally boring and are hosted by two incredibly annoying virtual yahoos. The only reason to enter a contest is if you want money ... and you're going to need it. In order to pick up dogs from the kennel, you need to spend money on them. At the start of the game you have more than enough to buy one dog, but if you want to buy any more you're definitely going to need to enter a few contests. Despite the annoyance factor, you've just got to do it. Having two dogs in the house is part of the whole fun of the game. The easiest contest is the obedience contest, which asks you to have your dog perform certain tricks in a specific order prompted by the game. You also have the option of entering your pooch into a frisbee competition or an obstacle course event. The frisbee toss is relatively easy once you get the hang of it, but the control for the obstacle course is terrible. Even with practice it's hard to know what the dog is going to do. Whether it's going to understand your stylus clicks enough to go through the little doggie tube in a timely fashion is critical to success in the contest, and the control just isn't there.

Personally, I much preferred one-on-one time with my dog (a Siberian Husky named Lupus) in the house or taking it for walks. Going for a walk isn't a terribly interactive event, but your dog enjoys it a whole lot. From your house you plan out the walking route, and can aim yourself and your dog at places like the park or the obstacle course arena. At the park you can play catch or practice with your frisbee, and at the arena you can get in some time with the awful jumps and tubes for the obstacle course competition. There are also cheaper second hand stores than the corner store near your place, where you can buy toys, food, and water. A walk mostly consists of you holding the dog's leash while it chugs along, occasionally stopping to wizz or poop. There are occasional points of interest, where your dog might find a gift for you or run into another dog owner out for a walk. The presents are cute, ranging from odd objects that you can use to play with your dogs to even odder fashion items that you can cruelly place on your animal. The other dog owners are know-it-alls, and seek to give you unasked for hints about how you should best play the game.

And really, who cares what they think? Nintendogs is entirely about what you can get out of it. Whatever makes you laugh or get warm fuzzies is the right thing for you to do. For example, for a reason that escapes me Nintendo thought that it would be important for you to know every place in the neighborhood that your dog has peed. They're marked by little blue dots on the mini-map showing your progress on your walk. The more your dog pees in a certain spot, the larger the dot gets. Though I know it isn't always the case with Nintendogs, Lupus only peed in places he'd already done so. By the time I was ready to write this article the mini-map resembled a smurf's version of mapquest.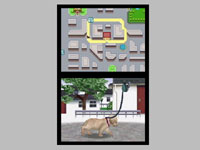 The intelligence and responsiveness of the virtual puppies, as well as their individual personalities, is quite a sight to behold. Not only can you derive enjoyment from your interaction with the dogs, but if you have more than one in your house you can watch them play with each other. Some dogs are playful, some are lazy, and some are troublemakers. Together, a pair or trio of dogs is almost more than you can comprehend. You can only actually play with one dog at a time, but that doesn't stop the puppies from getting right up against the touch screen and struggling for your attention. Lupus and my wife's dog Erin would constantly battle each other for chew toys, affection, and (thanks their exuberant natures) who got to be standing at any given time. If you like animals at all, it's hard not to smile at the image of two happy puppies literally warring for your attention. Nintendo has really captured something intrinsic to the appeal of having a dog for a pet here, and everyone I've shown the game to has had a hard time putting it down. Even without the voice element (the voice commands only work for the dog's owner, obviously) it's hard not to be drawn in by their enthusiasm and wagging tails.

In the end, this unique title for the DS is all about who you are and the connection you can form with little virtual critters. If the idea of a virtual puppy isn't appealing to you, you're probably not going to get a lot of enjoyment out of Nintendogs. If the venerable PC titles "Catz" and "Dogz" were your thing back in the day or you were one of the people that made sure your Tamagotchi was fed regularly, these pups will be right up your alley. Judging by sales numbers the non-hardcore market has already adopted this title, and a dog of their own. Your mileage may vary, but Nintendo has a real accomplishment here.