1458341
story
The panels, lectures, and roundtables are what makes GDC so interesting to attend. The opportunity to hear the thoughts and opinions of game developers in this setting is unique, and every day there are dozens of options for the curious-minded. Wednesday I had the opportunity to attend one particularly intriguing session. The "Game Design Challenge" attempted to stretch the bounds of game design by tasking Peter Molyneux, Will Wright, and Chris Hocking with coming up with a game under the Emily Dickinson License. Read on for impressions and images from the unique experience.
The Game Design Challenge was definitely unique. Eric Zimmerman played master of ceremonies, and started the event with a reading of some of the reclusive poet's works to get us in the right frame of mind. The idea of the challenge, he said, was to give everyone a sense of the process behind game design, and to attempt to get everyone thinking about new kinds of games.
Chris Hocking went first, and presented a unique approach that would have allowed DS players to actually recreate Emily Dickinson's works by taking on the role of her Muse. His design used a formal language structure which would have distilled down her works into their component parts. These parts, then, would have been strung together into a cohesive whole to actually "write" the poem. The concepts were to have been "mined" from the real world as Emily moved about her daily business, with the player's task being to manipulate her just enough to get what they needed for the poem.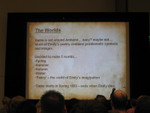 His example was that of an old willow tree, which could have been a point to collect several different concepts such as beauty or strength. Once you had all the necessary components, you'd write them together to complete the poem. As a reward, you'd be treated to a music and video reading of the work you'd completed. He specifically wanted the game to be somewhat open ended, so that the possibility of a sequel could be kept in mind. He also included some rudimentary plans for wireless integration by allowing players to send each other concepts, or to allow a look ahead by viewing another player's completed poem.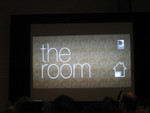 Peter Molyneux got up on stage and said "So, I went a bit overboard." He'd come prepared with an actual demo of a game, entitled "The Room". While it wasn't the crowd's favorite design it was definitely impressive. If you'd like to see part of the demo, I have some video available, but in a nutshell the game involves using "virtual clay" to form objects inside spaces based on Dickinson's poems. Once you'd managed to make an object or alter the area to recreate the environment in which she'd written the poem, a line of the poem was read and you could move on to another object. Molyneux stated that he is dyslexic, and not very familiar with poetry, so he wanted to give a hands on feel to what could have otherwise been a pie in the sky idea.
| | |
| --- | --- |
| | Will Wright's was the final design up for consideration, and was a truly inspired idea. It included such charts as the one to the left, showing the overlap between Emily Dickinson readers and GTA players. |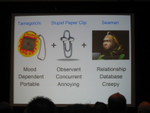 Then he put forth his goals. He wanted to have the mood dependency and portability of a Tamagotchi, the helpful/annoyance of Clippy, and the relationship and creepy aspects of seaman.
| | |
| --- | --- |
| | What he came up with was USB Emily Dickinson. The game would be a small program bundled with a USB memory drive, which is now a large business and an almost impulse buy. The "Emily" program would sit on the drive, and would occasionally interact with you in order to begin to derive an emotional relationship with you. |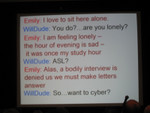 These interactions would include Instant Messaging, email, and interruptions while writing. Over time, the program would develop a model of behavior depending on how you'd interacted with it. Will's thought was that, while you could eventually get her to a stable state it was more likely that she'd become romantically obsessed with you, or suicidally depressive. In the latter case, he said, she would have the option of deleting herself off the USB drive.
| | |
| --- | --- |
| | To respect the license idea, again, Wright opined that the program could be adapted for any famous figure, and to have many different USB individuals operating on the same computer. If you had enough ports you could even have them interact with each other through natural language generation. Thus, you could slot drives to view a conversation between Marx, Twain, and Homer Simpson. While all of the ideas were stellar, Wright took home the first prize for the second year in a row. |