1459507
story
Spacefaring races always seem to get into trouble, and game designers love to put us into the shoes of the explorers and soldiers of tomorrow. Unfortunately, futuristic titles can be just as tiresome as Dungeon Crawl #457. Both MechAssault 2 and Nexus: The Jupiter Incident are examples of this truism. Both games are well conceived, with fine pedigrees behind them, but neither manages to deliver satisfying gameplay or long-term enjoyment. Read on for my analysis of these two titles...in spaaaaaaaaace.
Fast-paced action gaming isn't a rarity on the Xbox, but there are a few titles that stand out in the crowd. The original MechAssault title was one of these, and Day 1 Studios attempts to recreate the magic with the title MechAssault 2: Lone Wolf. While the online gaming component delivers satisfying multiplayer action, and the single-player campaign manages to shake things up a little bit, the title overall seems much like a clone of the original MechAssault.
Title: Mechassault 2: Lone Wolf
Developer: Day 1 Studios
Publisher: Microsoft Game Studios
System: Xbox
Reviewer: Zonk
Score: 6/10
As a table-top gamer, my fondness for the Battletech and MechAssault games is rooted in the lead figurines and hexagonal maps of the original game. Loading out the mech components via by filling in little dots using a number 2 pencil back in the day was completely different from the fun of playing modern video games, but there is still an element of that obscurely vicious pastime in the MechAssault series of today.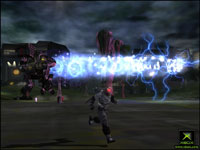 At kickoff, MechAssault 2 puts you in the role of a Mechwarrior as he and and his crew find themselves in a hostile situation. You're given the chance to run through a tutorial session while simultaneously repelling a hostile force. This puts you directly into the action, a nice choice. There's no need for plot or motivation before you start blowing things up. Players who have played through the previous title will start to glaze over during the tutorial, though, as the controls are almost exactly identical to those in the original game.
In fact, that statement is the basis of all of the issues with the MechAssault 2 experience. If you've played through the first MechAssault title, you've basically experienced everything that MechAssault 2 has to offer.
The big difference comes in the form of the the compact "Elemental" style power armor. The tiny mech handles just like the larger constructs, and has some impressive armament for its size, but the big draw of the tiny suit is the ability to "Neurohack" your way into full-sized mechs. Not only is this a potent combat ability, completely disabling a successfully targeted mech, but it allows you to enter and control the hacked mech if you choose. The game mechanic itself is easy to use, requiring you to hit a series of buttons on the controller within a certain period of time. Besides the new power armor, you're also given several opportunities to use more traditional vehicles such as tanks and a VTOL. And, of course, you still have access to the giant robotic walking tanks that typify the Mech genre.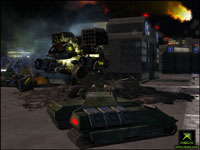 The single-player campaign provides a decent framework both to develop piloting skills and to do some urban renewal with your mech. There's nothing spectacular in the background or composition of the plot, though, and only a few levels after the tutorial ends the gameplay will get repetitive. The Word of Blake opponents, the primary bad guys to the Mechassault 2 tale, eventually all blend into each other and every tank you stamp out of existence begins to look like the last. As in the first game, the backdrop to your rampages is entirely destructible, and even a single stray shot with the high-powered weaponry you utilize near the end of the game can take out a city block or two. The game's musical background consists of licensed songs from bands like Korn. Maybe it's the pen-and-paper purist in me, but I had a hard time associating Korn with Battletech. The rock soundtrack does add to the atmosphere, but recognizable bands seemed to detract from rather than enhance the experience. The story is simply Mechassault 1 with a new coat of paint, and singularly familiar gameplay ensures there are few new experiences to be had for the veteran Mech gamer.
As with Halo, the real reason to play the first MechAssault was the multiplayer capability. MechAssault 2 upholds the original game's tradition of Xbox Live enabled multiplayer carnage. There are several different modes available, with all the types you'd expect, like capture the flag, deathmatch, etc. The designers gave the online game a new twist, though, by incorporating a "conquest" mode: In conquest mode you hook up with one of the houses, the clans of the Inner Sphere, and go on the warpath for your chosen allies, attempting to gain as much territory as possible with the aid of other house members and opposed by other house factions. Unfortunately, the number of players online is rarely sufficient for this kind of play. Satisfied that they'd already played this before, many gamers have long since chewed through this game and resold it to Gamestop for another title.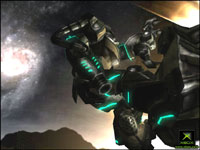 Mechassault 2 is a competent, but overall unnecessary sequel to the original title. The first game was a completely valid expression of the shoot-em-up mech genre. While the urge to create a sequel to a successful franchise is a logical one, it's hard to see the real need for this game. The action mech genre is a fairly well-developed one, and while the neurohacking gimmick provides some differentiation from other titles, this straightforward license vehicle could have been so much more. I recommend this game to fans of the original title who are looking for more maps to play on, or an action gaming fan who's looking for familiar territory, but unless you go to sleep at night wearing a Mech King crown made of cardboard you can afford to pass on this sequel.
Screenshots are from Microsoft's official MechAssault 2 site, (c)2005 Microsoft Game Studios.
---
Nexus: The Jupiter Incident is a dramatic name for a game that manages to be a thorough disappointment. That's a real shame, too, because Nexus has a lot of elements that make you want the game to succeed. Visuals and voicework ingratiate the world to you, but the lackluster gameplay makes you wish you hadn't uninstalled Homeworld.
Title: Nexus: The Jupiter Incident
Developer: Mithis/HD Interactive
Publisher: HD Interactive
System: PC
Reviewer: Zonk
Score: 4/10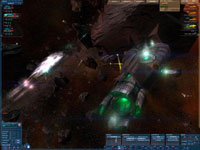 The background to Nexus: The Jupiter Incident is played out for you in unskippable cut scenes that for the most part manage to confuse more than inform. There's a guy, see, and he's the first guy born in space. Then he has a son. Just thought you'd like to know that. Then the guy gets put into hypersleep after an intense battle. As you are. He's found many years later, given his old job back, and then to celebrate his return he's sent on a several year-long sojourn into the outer rim of the solar system. Jupiter, to be precise. Can't make this stuff up, folks. The plot actually does have elements that draw a player in. There's some interesting ship design, some talk of large intrasystem corporations that have formal militaries and regular skirmishes, and (I'll ruin the surprise for you) aliens. The problem is that all of this is muddled together in mission briefings at the start of each part of the game, and after two minutes of exposition, you're disinclined to pay attention to the backstory and really just want to get to the shooting.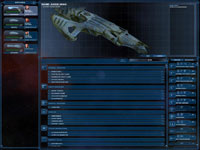 The shooting at least, looks good. Majestic 3D expanses are your playgrounds, with really nice looking ship designs and a slick interface makes play ve. In particular, I appreciated the swept-back designs and utilitarian choices made by the ship designers. I'm getting pretty tired of Star Trek pretty and Star Wars uglytech. The problem comes when you consider the pace and method of the shooting. Nexus has you issuing orders to your forces, which can range from a single vessel to a large fleet. Like many RTS games, you don't control your units directly; You simply give them an instruction and let them go do their thing. Combat breaks down to two choices: Either you instruct your minions to attack the hull of an opposing ship, in the hopes that the crew will flee and the ship will eventually be destroyed, or you order them to attack specific subsystems of the ship. This provides an element of the strategy sometimes missing from so-called RTS titles. What I found most effective was to have ships target the weapon systems of opposing vessels, as they seemed to be some of the most vulnerable components.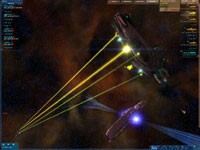 At issue here is the pace of combat and the intelligence of your units. Despite ordering my flagship to target a subsystem of a specific enemy vessel, I would often return to my combat unit after handing out some additional orders to find it either hanging dead in space or chasing after another ship entirely. Reaffirming my target of choice seemed to be seemed to be the only way to ensure the battle would go how I intended. Additionally, combat in space, apparently, is deadly. Deadly dull. The weapon systems look nice, and seem to be firing at an acceptable rate, but the armor plating of even the most insignificant weapon system is apparently very tough. It will take over a minute of a concentrated barrage to take out even a single subsystem. Actually destroying a ship, causing its crew to abandon the vessel and the hull to crumple, can take upwards of three minutes. This turns what should be tense and quick encounters into adventures in frustration as you are forced to concentrate your fire on one ship as the only viable strategy. Despite combat appearing to be a situation with tactical possibilities, you are reduced to ganging up in order to have any chance of victory. Missions with large numbers of enemies are particularly annoying, as the AI and combat pace combine to ensure that -- unless you are very on top of things -- you'll do barely any damage to the opposing force. You can order your entire fleet to focus on one ship in a blizzard of twenty or more, but the wandering AI ensures that their focus will quickly be elsewhere. Fifteen minutes into a mission and you'll find yourself with a swarm of 10% damaged enemy ships crawling all over your very spread out fleet.
All of this is a real shame, because Nexus has some very charming aspects: There is a ship modification element to the game, mostly straightforward and nowhere near as well developed as a Pax Imperia or Galactic Civilizations, but there nonetheless. The voicework for the characters is fairly well done, despite some occasional poor dialogue and endless exposition. And did I mention the ship designs?
I spent most of my time playing Nexus: The Jupiter Incident leaning far back in my chair in a passive state. The style of the game seems to be aiming for a combat-rich deep-space adventure, but the pace is that of a more leisurely strategy simulation. This confusing mishmash turns what could have been a worthy addition to the genre that is almost defined by the Homeworld games into simply a poor substitute. I lament the game that's resulted from the ideas visible in this game, as there really seems to be something worthwhile here below the surface. As it stands, though, Nexus: The Jupiter Incident is a game that you can take a pass on unless you simply need an excuse to get back out into the big black.
Screenshots are from HD Interactive's official Nexus: The Jupiter Incident site, (c)2005 HD Interactive.