1471509
story

The genre of the first person shooter was born with simple elements in mind: shoot, strafe, win. Since then it has moved on to loftier frontiers, better stories, bigger things. Despite this it's an lot of fun to go back to the basics once in a while. 2001's Serious Sam was the kind of mindless fun that a PC gamer needs every once in a while. No long cut-scenes, no intricate plot, just the opportunity to turn some harpies into feathered confetti. The sequel, Serious Sam II, has a lot of potential but manages to miss out on the essentials that made Croteam's first encounter a success. Read on for my impressions of Serious Sam II.
Title: Serious Sam II
Developer: Croteam
Publisher: 2K Games
System: PC (Xbox)
Reviewer: Zonk
Score: 5/10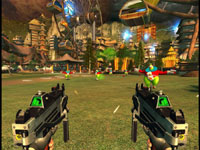 On loading Serious Sam II, a group of strange coloured midgets look on at footage of the original game and wax philosophical that Sam may indeed be ... 'The One'. The rest of the game goes downhill from there. In the original cutscene, though, the plot goes on to babble some nonsense about a magical amulet that's split into sections and entrusted with different civilizations. The story in SamII has you moving from place to places assisting these little guys against the ravening hordes of evil. After you beat the boss of one area, you get a piece of the amulet and can move on.

The problem comes with everything between coming to a new area and moving on. I'll get to that in a moment, though. I'd like to paint an overall picture first. Gameplay is very much like that of the original title. The title sports pure FPS-standard controls. You use the controls to aim a bevy of weapons at oncoming hordes of enemies. Where Half-Life 2 places enemies intelligently and Doom 3 had them leaping at you from the shadows, SamII throws wave after wave of unintelligent monsters in your direction, daring you to take your eyes off the prize for even a moment. The fun factor of the original Sam, at least with this facet of gameplay, is still sound. Having to deal with over a dozen critters moving in your direction at once is both intimidating and amusing. Death doesn't hold much fear, as you have multiple lives and can respawn if you do end up meeting the grim reaper. Tossing death back at your foes is accomplished with a dizzying array of weaponry, from the standard rocket launcher to a paired set of submachine guns all the way to a parrot-bomb. Each weapon, besides having an amusement factor, is capable of taking out different types of enemies. Enemy types are varied, and in addition to keeping you on your feet make you think a bit as well.

Besides running and gunning, there are some vehicles sequences as well. You'll have the option of piloting a hoverbike, a jet fighter, and a dinosaur over the course of the game. The Boss fights themselves are also a nice change of pace from the normal scenarios. As fast as you have to think with multiple incoming, you almost have to think faster while holding down your fire button to continuously fire at one creature. Aside from huge Boss fights to break up the game itself, there are mini-boss fights throughout the game. Though there isn't necessarily one each chapter there are enough of them to give a small sense of satisfaction as you make progress towards the end of the game.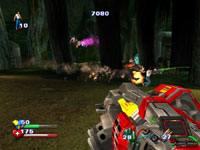 The real problem is that, while all of this sounds good on paper ... it just doesn't work on-screen. The weapons are unfun rehashes of similar weapons from other titles. There's a curious lack of satisfaction to using them. How they managed to make an auto-shotgun unsatisfying to use is a trick, but there just doesn't seem to be much weight to the action. Unlike the previous title, which saw you mowing down enemies in great sheets of blood and gore, SamII feels more like a trip to a carnival. Popping enemy-shaped balloons with darts just doesn't have the same feel. The controls, despite being standards throughout the genre, manage to feel cumbersome and unwieldy in this setting. Whether I was firing a rocket launcher or a sniper rifle, I always managed to feel as though my opponents had a better grasp of the whole 'pointing the mouse' thing.

These frustrations could have been overcome, though, if the sense of pace to the title was anything like that in the original game. Just as quickly as you tore through a mapful of enemies, you were off to another locale with more bloodthirsty hordes to slaughter. In SamII you do the incredibly fun activity of walking to your destination a great deal more than I would like. At some points there is even an MMORPG level of travel involved. While I guess I can understand wanting to show off your new graphics engine, it absolutely kills the game's pacing. To add insult to injury, several levels have cutscenes to fill us in on what exactly it is we're doing as we move through the game. In almost any other title, I'd be glad to listen to plot and learn more about my surroundings. This, though, was Serious Sam! While the scenes are skippable, whenever I made the mistake of sitting through one I regretted the decision. As laughable a plot as the amulet thing is, when I actually took the time to listen to a cutscene it was like watching a joke that no one had let the writers in on. The blue midgets talking to the gravel-voiced psychopath just went on and on, when all I wanted to be doing was squishing some evil with whatever came to hand.

Despite my frustrations with how it was put to use, the Serious engine is relatively pretty. It's not Source, Unreal, or Doom, but it stands well on it's feet as a modern FPS engine. The shiny saturated look of the original game has been mostly preserved, with the monsters not only looking creepy and weird but managing to do it with style as well. The audio environment is pretty much a wash. There isn't any music or orchestration worth mentioning, and the sound effects only managed to be good enough not to annoy. Some of the weight of the sound effects from the original game seems to have been lost, as well, leaving weapons fire somewhat hollow.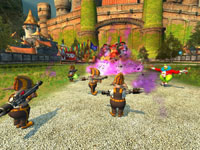 For whatever reason, SamII developer Croteam chose to fill in places that weren't lacking in the first game. By adding bulk to the design and essentially ignoring what made the original title fun, they've managed to drain the fun from what should have been a hard to screw up sequel. Even the return of the first game's co-op multiplayer mode isn't enough to overcome the game's lack of soul. Vehicles and traveling, cutscenes and an attempt at a plot ... sound like any other games you know? By trying to make their game into an emulator of more serious genre titles, Croteam diluted the essential fun-ness that the Serious Sam model had to offer. Serious Sam II is a frustrating, confused experience that made me lament the fact that you can never go home again. Even at just thirty dollars on the PC, I don't recommend this title to anyone but a desperate FPS junkie looking for a fix.