55554
story

Neverwinter Nights was like an arrow of Zonk-slaying aimed directly at my gamer heart. I've been a table-top player since grade school, and a CRPG version of Dungeons and Dragons with the (at the time) new 3.0 rule set was tremendously exciting. Some four years later, and the sequel had me equally excited. Neverwinter Nights 2 was developed by Obsidian (of Planescape: Torment fame), using a fairly faithful version of the newer 3.5 rules. The result is a game that oozes D&D from every pore. You've got tons of spells, prestige classes, quirky-weird races (tieflings? anybody?), and a polished, functional story that gets you from point A to point B with a minimum of pain. A recipe for a nerdgasm if there ever was one. The game itself, regrettably, suffers from a fairly big problem: they rolled a 1 on their Craft(Videogame) roll. Read on to find out why they should have taken 10 in my impressions of Neverwinter Nights 2.
Title: Neverwinter Nights 2
Publisher: Atari
Developer: Obsidian Entertainment
System: PC
The original Neverwinter Nights was far from a perfect fit right out of the box, of course. While the game's basis was solid (after a patch or two), the campaign was pretty much a throw-away. That never really bothered me; the tools were so great that the fans stepped in and made the game their own. Modules like "the Witch's Wake" more than made up for that initial lackluster experience, and the campaigns they offered in the game's eventual expansions were far more considered and interesting. Neverwinter Nights 2 (NWN 2) is something of the reverse, more's the pity. The actual campaign is fairly enjoyable, but the game's foundation is more than a little bit shaky. It's hard to say now what that will ultimately mean for the title's longevity, but my instinct is that Obsidian is going to need to get this fixed fast in order to keep their fans interested.

NWN 2's story sees you beginning life as a 'Harborman', a person adopted by a local luminary in a small village along the Sword Coast. This is the same region of the Forgotten Realms that played host to every other D&D CRPGs you've played, so you're likely to see some familiar names in both locations and characters. There's a big evil, of course, and within the first hour of play it has interrupted your village's quaint little carnival in order to kill and maim. Once the battle's done, you're tasked by your adoptive parent to head north to the city of Neverwinter, to figure out exactly what's wrong and set things right. Along the way, you meet a cast of crazy characters who aide you on your journey. Though they mostly play into the usual D&D stereotypes (grumpy dwarf, annoying druid), there's some originality here as well. I particularly liked the aforementioned tiefling (a union between a human and a demon). She's a rogue (and thus very handy to have around), and punctuates her annoyances by exclaiming "Hells, Hells, Hells". It isn't Shakespeare, but it isn't grade-school D&D either. The story itself develops from these humble beginnings with the usual dramatic scaling that table-top gaming requires. Before long, you're fighting horrific monsters and doing a bit of world saving on the side. What could have been a hackneyed snore was actually fairly enjoyable thanks to the sheer amount of polish the designers gave the story. It's obvious they have a passion for this material, and it comes out in every witty NPC or unexpected plot-twist.

Who *you* are within this story is, of course, completely up to you. NWN 2 offers the same overly-flexible character creation system as the original. Since 3.0, D&D has gotten a lot more complicated, and this is reflected by the sometimes-overwhelming array of options you'll have when choosing your class, feats, skills, and magic spells. Every one of these, though, can be circumvented by using the 'recommend' option the game offers. While I tweaked my characters the way I wanted them, I checked in on the recommend option each time and can honestly say it would not steer you wrong. If you have no interest in choosing a 6th level feat for your dwarven Fighter, you can click right through the level-up process and not feel as though you've been cheated. At higher levels you can choose from prestige classes which offer unique gameplay styles. Some are holdovers from the original NWN, but there have been some new additions as well. It's hard to argue with the degree of customization you can achieve with the character creation system. They even have a fairly robust avatar-maker. Here, at least, there is little to complain about.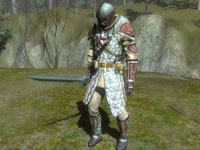 Let's go back to talking about that cute tiefling, though. She leaves something to be desired in the brains department, unfortunately. There's an option to manually tell your cohorts what to do, and in dungeons it is a requirement that you turn it on. While traveling, giving your NPCs a little free reign is fine; they'll engage the enemy and there is an option to ensure they cast the appropriate spells. In dungeons their enthusiasm will send them dashing right through traps, past big evils, and into the waiting jaws of death. What I'd really like to have seen was the option for the game to auto-pause after every 'round' of combat. Given that the game's AI is not up to the task of dungeon crawling, I would have preferred to use good-old turn-based combat to ensure maximum party survivability.

Another (much discussed) frustration is the in-game camera. To say that it is curiously designed would be to give a great deal of credit to the game's developers. I'm usually fairly sympathetic to UI problems; making something that everyone will agree is useable is very challenging. A camera, though ... this is 2006 folks. 2+1/2D games have had a useable camera for almost half a decade now. Why Obsidian felt the need to re-invent the wheel is beyond me. Thankfully, you can select yourself and your teammates via use of the F1-F4 keys; a requirement since it's quite challenging to pin them down with the mouse. If we, as gamers, can't complete the 'looking at fun stuff' part of gaming, where does that leave us? This was an inexcusable oversight, and makes you wonder how much QA Obsidian had the chance to do before the game shipped.

Graphically, Neverwinter Nights 2 is visibly better-looking than its predecessor ... if you're playing on an extremely high-end system. On my own system, I found that the game was playably smooth with almost every option turned down and a screen resolution I would have found useable in 1997. With the graphical elements turned up higher than that, my (not terrible) system began to grind and sputter. Slowdowns weren't even solely during combat. Somehow, moving from place to place also caused molasses-like framerates as well. I will say, in the games defense, that the high end XPS laptop I'm currently reviewing from Dell played the game with absolutely no hiccups. This is a laptop I could never afford to purchase for myself, but it played NWN 2 at a very high resolution with no problems whatsoever. Somehow, that's not much of a consolation.

Aurally, the game is fairly forgettable. I always looking forward to a D&D CRPG's musical accompaniment; if it's any good it's likely that it would go well with a table-top session too. The generic fight music is the highlight of the game, more's the pity. This, too, felt like a game element they just didn't have time to give full attention to. Thankfully, the voice actors that bring the NPCs to life are fairly animated. Aside from the tiefling and the dwarf, you'll find a host of unique fantasy-types awaiting your canned questions and plot-related annoyances. The voice acting is one of the strongest parts of the game, and it's a shame that the rest of the title couldn't rise to that quality level.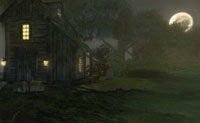 In fact, it's telling that the components of the campaign (the story, the voice acting, the characters) are the most polished elements here. Neverwinter Nights 2, it was hoped, would offer RPG fans another solid platform on which to make their creations come to life. In quality, the mods created with the original NWN toolset easily match he FPS offerings created in the Quake or Unreal engines. Instead, Obsidian here seems to have produced a more singular game experience. They've focused on offering a single tale ... perhaps ultimately to the detriment of all future tales that could be told with the toolset. There's already been a patch for the game, and it has improved things somewhat. Only 20/20 hindsight will be able to tell us if NWN 2 is up to the task of being the next platform for RPG modding. For now, as a singular game, Neverwinter's technical problems outweigh the story and quality of character acting that might have made this a favorite of 2006. Table-top RPG fans will still find a lot to like here, but the game is going to make you work for your fun. That's nothing new for Dungeons and Dragons players, but those with a lower tolerance for this sort of thing should probably wait for the first expansion. One would hope that by that point these issues will have been corrected, and everyone can enjoy another trip to the not-so-Forgotten Realms.