1462883
story
nellardo
writes
"Put three topics dear to a typical Slashdotter's heart in one product and you are faced with the possibility of excellence warring with the possibility of crapulence. Take Lego, add Star Wars, and make a video game out of it, just in time for the release of Revenge of the Sith. That's Lego Star Wars, and it is in stores now. Fortunately, it turns out to be a fun gem of a game, good for a light afternoon for the hard-core LAN gamer, and great for kids and other family-like units.
Title: Lego Star Wars
Developer: Eidos Interactive
Publisher: Traveller's Tales
System: PC/Xbox/PS2/GBA
Reviewer: nellardo
Score: 7/10
Lego Star Wars is without a doubt a fun game. Ostensibly it's a platform game, with the mix of reflex-based jumping and puzzles that genre entails. It is Star Wars seen through the eyes of Lego playtime. Everything is made of Lego bricks and to stay true to the genre you'll spend much of the game collecting items. Of course, they're Lego - studs for simple points, and pieces for mini-kits hidden in every level.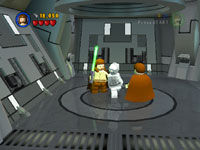 Lego Star Wars lets you play through the major plot points of Episodes I, II, and III. This is Story mode, and you play as Lego mini-figures of the hero at that point of the story (thankfully, the Dread Gungan, Jar Jar Binks, plays very little part, even in Episode I). As soon as you've played through the first chapter of Episode I (Negotiations with the Trade Federation), Episodes II and III are unlocked.

You can also go back and start playing "Free Play," where you can play as any character you've managed to unlock. If you are far enough along in Story mode for a character to have a major role in the game, you can play as that character. After defeating Darth Maul, you can play as a mini-figure Darth Maul. After battling Count Dooku at the end of Episode II, you can bounce around as a mini-figure Yoda yourself. Some of the major characters you purchase with studs you collect (e.g., Jango Fett), and even minor characters are available (playing as a droideka is a bit absurd, but still fun).

Lego bricks don't really push the boundaries of what a modern game system can do. Despite that, the game looks very nice. Solid, smooth motion is everywhere, with very few aliasing artifacts. Collision detection, shooting, moving through space, all of it just works well.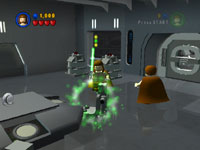 If this was all there was to the game, it would be yet another licensing dud. A good one, but still all concept, no substance. Lots of time and money squandered on a "sure fire" hit, but with no real fun to the game.

Too often, developers forget that the real point is content, not licensing. Fortunately, the developers of this game didn't forget to make it a fun game. The developers followed the plot of the movies, but not slavishly so. They took the germ of a scene in the movie and made a fun level or mini-game out of it. No game possibility? That scene didn't make it in, except perhaps as a cut scene. Thankfully, this means Jar Jar is limited to a cut scene or two (though you can play as Jar Jar if so inclined), and the painful "love scenes" between Anakin and Padmé are absolutely no where to be found.

And make no mistake, the levels of this game are fun. The puzzles can be challenging, but not real stumpers. The mini-games are zippy and sometimes tough, but not impossible. Frustration is not this game's point - entertainment is what it is all about.

Furthermore, it's family entertainment, because this game is at its best when it's a two-player game. A second player can plug in a second controller, press "Start", and show up as a nearby friendly character. Most of the scenes in the game (as in the movies) have several key characters involved, so if you're playing Obi-Wan running after Count Dooku, a second player will start controlling Anakin (who has been running alongside all along). Either player can switch control to a different character at any time. Either player can pause and opt to drop out at any time, too.

Needless to say, this is just perfect for parents who want to play along a bit, but need to get up to answer the phone or make dinner. For that matter, it works well for kids who want to take a break from a parent's focused gaming jag.

This two-player mechanism works into the content of the game as well. If two players are active, the puzzles often require cooperation (characters follow the lead of the single player if only one player is active). Your weapons can hurt friendly players, too, so games become social and interactive - "You take the ones on the right, and I'll get the ones on the left" is a common refrain when two Jedi are faced with a crowd of battle droids.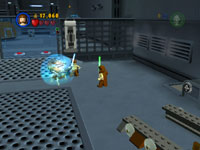 The game also gives some screen time to relatively minor characters (like TC-14, Kit Fisto, and a young Boba Fett), and is liberally sprinkled with Easter Eggs. (Such as the Cantina song, and the disco synthesizer version of the main theme that came out when disco was still a new thing). Finally, the whole entire game is done with a tongue-in-cheek attitude. The game knows it is made out of Lego. For instance, all the baby clone troopers on Kamino are single-stud bricks, and plants are Lego plants. None of the mini-figures take the proceedings too seriously either, with knowing winks and rolling eyes at all the right moments.

All in all, it's a fun family game, well done, and a great buy. It's easy enough to play that a grade school student can pick it up, and engaging enough that the grade schooler's parents (or even teen siblings) will want to play too. If you buy one "Revenge of the Sith" tie-in, this is one that won't disappoint.
---
Slashdot welcomes readers' game reviews. To submit them, head to the submission page.